SERVPRO Provides Fire Damage Cleanup and Restoration Services in Plainview
11/24/2023 (Permalink)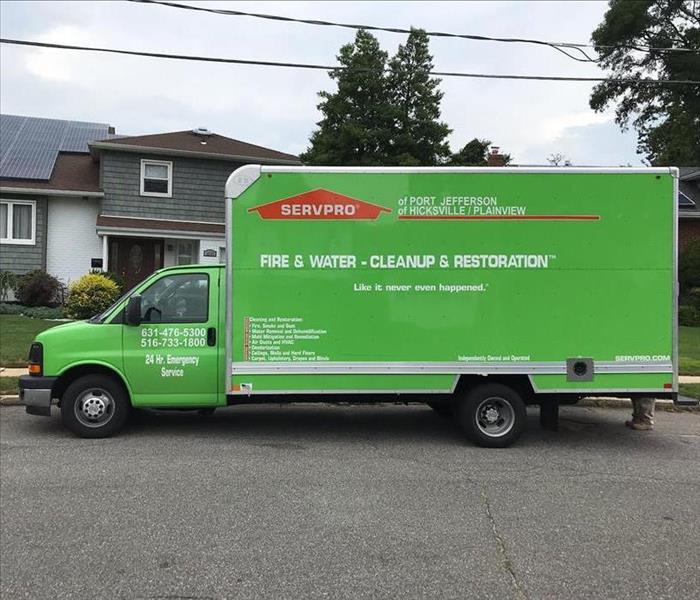 Our FSRT fire and smoke restoration team cleans up your fire damaged Plainview home "Like it never even happened." Here to Help®
Call SERVPRO® for Help with Fire Damage Repair in Plainview
Even smaller fires can cause a great deal of damage to homes or businesses in Plainview. If the fire does not cause significant damage, fire retardants and smoke residues drift throughout the structure. Smoke residues are carried by the HVAC system, as well as the air current generated by convection from the heat of the fire. Hot fires tend to create light, fluffy residues, while oily fires from kitchen cooking can produce a heavy, sticky, or oily residue.
SERVPRO® analyzes the fire damage in Plainview homes and applies the appropriate cleaning processes and agents to remove residues from hard surfaces and porous materials. We remove damaged structures, cabinets, and contents and arrange for disposal. Everything that can be cleaned is returned to its original condition "Like it never even happened." Even the HVAC system is spotlessly cleaned to avoid further contamination of your home.
Fires can severely damage the home's structure, and it may be unsafe to enter. Electrical wiring may be exposed and present a safety hazard. If you are unsure about your safety, only enter the home after a fire once our experts have evaluated the situation. Let them know if there are particular documents, unique items, or heirlooms that you wish to retrieve from your house.
If you must go into the home after a fire, follow these tips in addition to those mentioned:
Avoid touching walls and contents to prevent soot from embedding into porous materials
Wash the leaves of houseplants on both sides
Change the filters on your HVAC system
Securely place double layers of cheesecloth over air registers
Place clean towels in traffic areas to prevent driving the soot further into the carpets
Follow guidelines provided by our SERVPRO technicians. They follow industry procedures to ensure the best outcomes concerning fire damage cleanup, repair, and restoration.
Call SERVPRO of Hicksville / Plainview and nearby areas for fire damage cleanup and restoration assistance. SERVPRO is Faster to any size disaster™ 24/7. Call (516) 733-1800.