Can I Clean Smoke Stained Walls after Hicksville Fire Damage?
1/25/2023 (Permalink)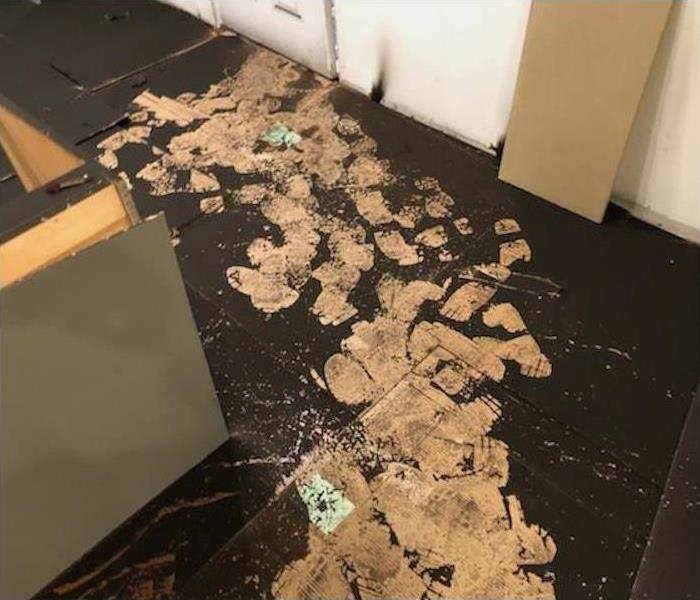 After fire damage in your Hicksville home, our experts are able to help. Call SERVPRO, we are always available.
Professional Help is Preferable for Hicksville Fire Restoration
One of the most distressing parts about fire damage in your home is how unsightly your house might look after the blaze. It is hard to settle back into your home if you have soot-blackened walls and ceilings.
As well as blackening walls, fire damage in Hicksville homes also affects the air. The Environmental Protection Agency points out that burning materials release microscopic particles into the air. It is easy to see why it is better to clean up the sooty residue as soon as possible. But is it a wise idea to do the cleaning yourself? No. It is better to call SERVPRO first.
Why it is a Wise Idea to Call in the Professionals
We understand that you want your home back to normal as quickly as possible. It is tempting to grab a bucket and sponge or some cleaning spray and start wiping down your walls immediately.
However, there are many benefits to calling our professional fire restoration technicians.
We train our technicians to Institute of Inspection, Cleaning, and Restoration Certification (IICRC) standards.
Our team can assess the marks on your walls and decide the best way to clean them.
We have access to industry-standard tools and products designed to deal with fire restoration.
If you use the wrong fire damage cleaning method, such as wet cleaning a wallpaper that is not suitable for this method, you could worsen the problem. There is a risk of stubborn stains that won't come off or unsightly streaks.
SERVPRO teams know how to tackle soot-stained walls during fire restoration. We are available 24/7, and we aim to leave your home "Like it never even happened." When you call, we will take details of your situation and call you back within the hour to let you know when to expect our team.
Why Does the Type of Wall Cover Matter?
Walls can have many types of covering:
Wallpaper, both smooth and textured.
Wood paneling can be either finished or unfinished.
Metal or ceramic tiles.
Stippling or textured plaster or drywall.
Some walls even have fabric, flocking, or carpet on them.
The wall covering makes a difference in how easy it is to clean the surface and which cleaning method is most suitable. For example, it would not be good to use wet cleaning on a paper or fabric covering that would soak up the moisture. Abrasive techniques are fine for walls that are going to be repainted. However, because scrubbing can damage the surface, abrasive cleaning is not suitable for walls that will not be repainted.
SERVPRO technicians assess the cleanability of the wall and choose the most appropriate cleaning method. Dry sponge cleaning is often enough for light soiling on painted surfaces. More heavily soiled wood paneling might require wet cleaning. We can also use scrubbing and powerful HEPA vacuums to remove dry soot residue. Vacuum cleaning is usually the first choice to remove surface soot.
Whatever method we choose, we always test an inconspicuous corner to ensure the results are of the high standard you expect.
We also pay attention to the most effective order of cleaning. When dry cleaning, it is better to clean the ceiling first, if necessary, to avoid soot from the ceiling falling on freshly cleaned walls. However, when wet cleaning, it is better to clean the walls first. If we cleaned the ceiling first, cleaning fluid could drip onto the blackened walls and cause streaks.
If your walls have smoke damage from a fire, trying to clean them yourself might make them look worse. It is better to call for help. Call SERVPRO of Hicksville / Plainview at (516) 733-1800, and we can assist you.