Do's & Don'ts - Building Emergency Tips
2/11/2016 (Permalink)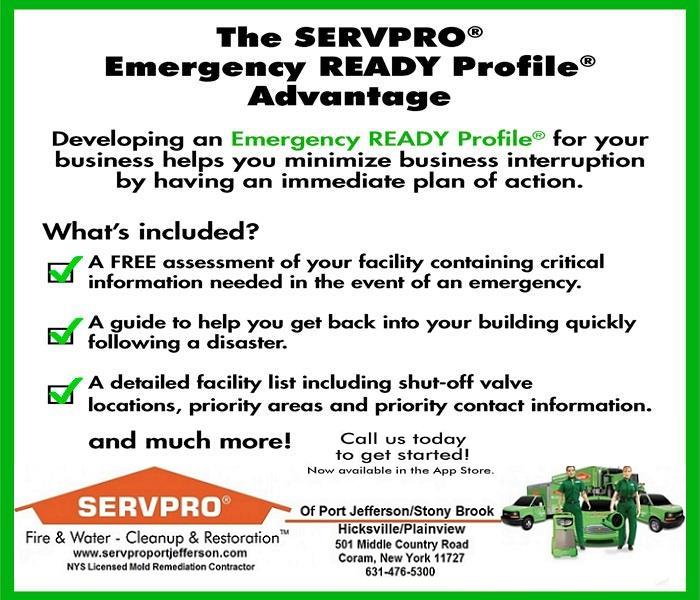 Helpful tips on what to do until help arrives....
Fire & Smoke Damage:
Do:
Limit movement in the building to prevent soot particles from being imbedded into upholstery and carpets.
Keep hands clean. Soot on hands can further soil upholstery, walls and woodwork.
Blow or brush vacuum loose soot particles from upholstery, drapes and carpets.
Place clean drop cloths on rugs, upholstery and carpet traffic areas.
If electricity is off, empty freezers and refrigerators completely and prop doors open
Clean and protect chrome on cafeteria and bathroom faucets, trim and appliances with light coating of Vaseline or oil.
Wash plants on both sides of leaves.
Change HVAC filter
Tape double layers of cheesecloth over air registers.
Don't:
Attempt to wash any walls or painted surfaces without first contacting your SERVPRO Professional.
Attempt to shampoo carpet or upholstered furniture without first consulting your SERVPRO Professional.
Attempt to clean any electrical equipment that may have been close to fire, heat or water without first consulting an authorized repair service.
Turn on ceiling fixtures if ceiling is wet. Wiring may be wet or damaged.
Send drapes to ordinary dry cleaner. Improper cleaning may set smoke odor.
Vandalism Damage:
Do:
Hose or wash egg damage from building exterior as soon as possible
Blot freshly spilled food from carpets and fabrics with dampened cloth or sponge (but don't over wet). Scrape and blot (don't rub: it may damage fibers).
Vacuum glass particles from carpets and upholstery.
Save containers, which reveal the composition of spilled inks, cosmetics and paints.
Don't:
Attempt to remove ink, paint or cosmetics stains.
Operate damaged lamps or appliances.
Discard wood chips, broken pieces from furniture, porcelain or other art objects.
Harmful Waste (Sewage, Blood borne Pathogens, Etc.)
Do:
Stay out of affected areas.
Call emergency service personnel if the situation is life-threatening.
Treat all bodily fluids as if they are contaminated.
Turn off the HVAC system if there is a sewage damage
Don't
Attempt cleanup of any kind.
Touch or handle items that might be contaminated with bodily fluids.
Eat, drink, smoke apply cosmetics or handle contact lenses in affected areas.
If exposed to harmful waste, OSHA recommends a post-exposure medical evaluation. Consult your local health department or physician.
Water Damage:
Do:
Remove as much excess water as possible by mopping and blotting
Wipe excess water from wood furniture after removal of lamps and table top items.
Remove an prop wet upholstery for even drying
Place aluminum foil or wood blocks between furniture legs and wet carpeting.
Turn air conditioning on for maximum drying in summer.
Remove oriental rugs or other colored rugs from wet wall to wall carpeting
Remove valuable paintings and art objects to a safe, dry place.
Don't:
Leave wet fabrics in place; dry as soon as possible.
Leave books, magazines or other colored items on wet carpets or floors, especially not on wet concrete floors.
Turn on ceiling fixtures if ceiling is wet and keep out of rooms where ceilings are sagging from retained water.