How to get rid of Holiday stains
12/26/2017 (Permalink)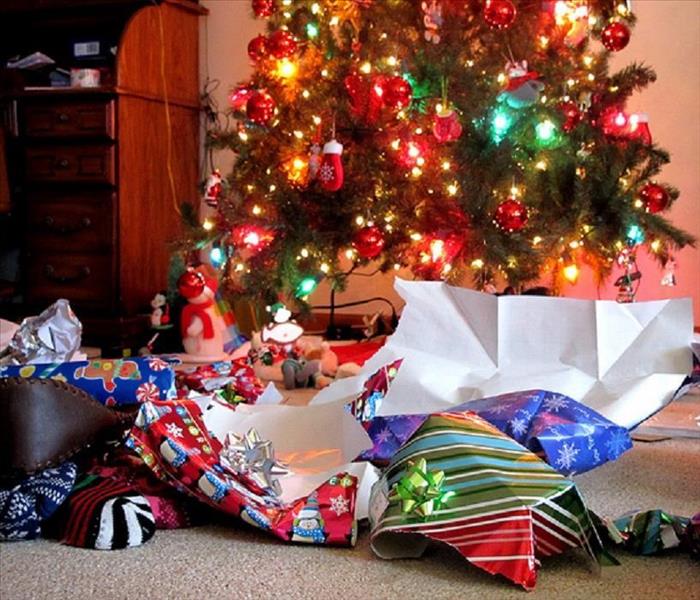 The holidays are many things: Festive, indulgent, an utter mess. And that indulging, as we all have learned one way or another, can wreak havoc on our clothes and table linens.
More than almost any other time of the year, the holidays are packed with special occasion foods and drinks we consume that create particularly egregious stains.
If your holiday festivities result in all new stains, spills and messes you'd rather not bring into 2018, here's how to clean them all up.
Gravy and Other Greases
The holidays invite a lot of extra grease stains — delicious, buttery, oily grease stains.
When a grease stain happens, such as when pan drippings splatter on your clothes as you transfer the turkey from the roasting pan to its serving tray, massage a small amount of dish soap into the fabric and flush it with cold running water. Dish soap is designed to cut grease and has the built-in benefit of already being in your kitchen with you and your oily stains, making it convenient for spot-treating.
Of course, if a blob of gravy lands on the tablecloth as you're ladling it all over your mashed potatoes, you shouldn't be expected to dash to the kitchen. (The potatoes will get cold!) To treat older or more serious grease stains, dab a small amount of Lestoil or Pine Sol on the stain before laundering the item in cold water.
Because a grease stain can be obscured when fabric is wet, it's best to air dry, rather than machine dry, because the heat can set stains. If the stain lingers after laundering, retreat it the same way and wash again; sometimes a second treatment is all a stubborn stain needs to be coaxed out.
For older, more set-in grease stains or spots on items that can't be laundered, cornstarch or talcum will pull up the oil. Simply pile it onto the stain and leave it undisturbed for 12 to 24 hours, then brush away the powder and wipe any residue away with a damp rag or sponge.
Potatoes and Other Starches (Including Sweet Potato and Pumpkin)
Starches present a problem because of their tendency to become so glue-like.
Before laundering, scrape as much of the starchy food off the fabric using a butter knife or the edge of a spoon then flush with cool water to reconstitute the dried-on starch. Then, treat with a small amount of dish soap, liquid laundry detergent or a stain pretreatment product and launder.
Whipped Cream and Other Dairy
Dairy should be flushed with cold water then treated with an enzyme-based stain remover (like Zout) and laundered. It's important to stick with cold water when treating dairy, whether on your clothes or on the dishes, because hot water will cause dairy to become gummy, making it more difficult to wash away.
Coffee and Tea
When a coffee or tea spill happens, start by flushing the area with running water to push as much of the stain out as possible. Then use dish soap and a light-colored rag or sponge to scrub at the stain, which should come out without too much trouble.
Lipstick
If a guest gets lipstick on your good napkins, don't panic: Good old rubbing alcohol will take it right out. Apply the rubbing alcohol to cotton ball, rag or light-colored sponge and dab at the lipstick stains. Several passes might be required, so be patient.
If the stain has lightened but a bit of pigment remains, apply a small amount of liquid laundry detergent and wash the item in cold water, checking that the stain is completely gone before drying.
For more useful tips on how to get rid of "Holiday stains" refer to the article from The New York Times